3rd Feb 2015
Wharf House Let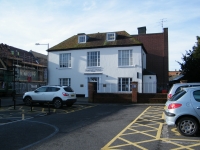 Landmark building Wharf House has been let to ROC who are relocating from Mill Reef HOuse in Newbury.

The building which was built in the 18th century totals some 3,450 sq ft and has around 9 parking spaces.

"Wharf House is a prominent local land=mark overlooking the Canal and highly visible from the A, 339. Previously used as a Doctors Surgery the building ail now be refurbished to ensure it is still around in another 300 years" said Paul Richardson.